Configuring a Barix Instreamer for Radio Mast
Barix Instreamer devices can be connected to Radio Mast to broadcast live audio. This guide will explain how to configure your Barix box to connect and broadcast to a Radio Mast stream.
Before we begin, there are a few prerequisites you need:
Follow the steps below to configure your encoder to connect to Radio Mast. The relevant settings are split into two different pages on the Barix, so we'll configure it in two steps:
1. Find your stream connection details
We'll need to enter your stream's connection details into your Barix box, so let's find those in your Radio Mast account. Log into Radio Mast, and click Streams on the left, then the name of your stream. You will see the information listed under Stream Connection Information. Keep this information handy for the next steps.
2. Configure Stream
Visit your Barix Instreamer's IP address in your web browser, and click the "Configuration" tab at the top.
Scroll down, and under Shoutcast/Icecast Settings, set the Radio Path to the "mount" of your Radio Mast stream.
Under Streaming Destinations, fill out an entry with:
Conn. type: Icecast Source
IP address or domain name: ingest-yyz.radiomast.io (or choose the closest ingest server to you. The available choices will be shown in your Radio Mast Stream Connection Information.)
Port: 80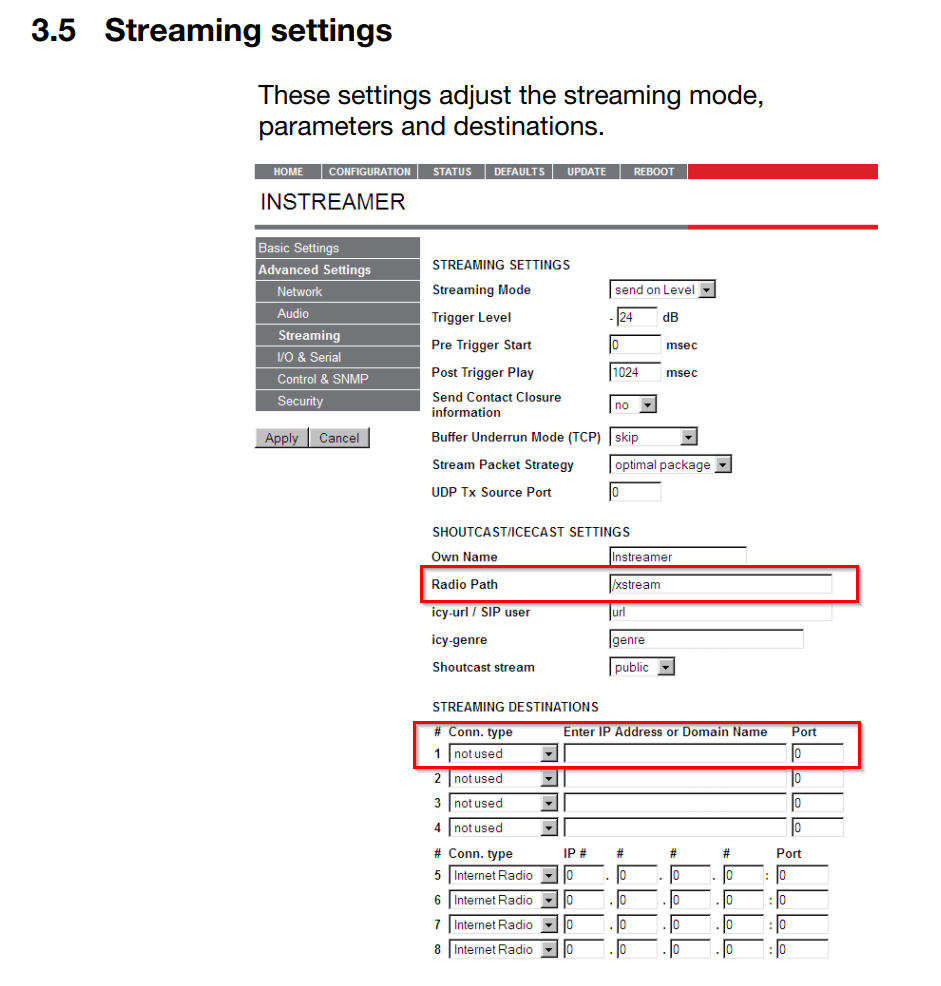 3. Configure Password
The password is entered on a different page on the Barix. Click "Advanced Settings" then "Security" on your Instreamer. Confusingly, there's an "Icecast/Shoutcast" field there, which is actually the password field for Icecast connections. Enter your stream's password in into this field.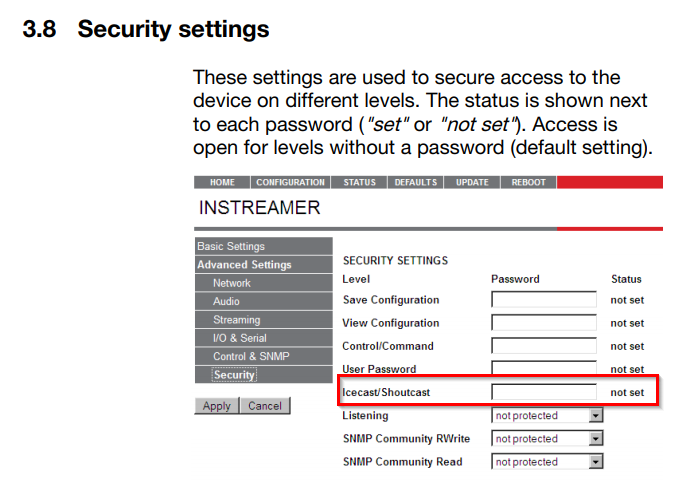 Click Apply to save your changes, and confirm under the Home tab that the Barix connects. It may take a few seconds for the connection to be established, but you should see the VU meters move once it is connected.
You can verify your stream is live by clicking the Listen button back on your stream's Overview tab Radio Mast.
Troubleshooting
Some firewalls can block port 80. Try port 8000 if you have trouble connecting.