---
An Intro to using the Radio Mast Streaming Network
The Radio Mast Streaming Network provides audio stream hosting for internet radio and live event broadcasting. All you need is your computer, an encoder and the Radio Mast Streaming Network to get started sharing your content with the world!
Step 1: Download our encoder.
We suggest that you use Rocket Broadcaster, but you can use any Icecast compatible encoder that suits your needs. The advantage of using Rocket Broadcaster is that it can be integrated with Radio Mast, such that you can adjust the Rocket Broadcaster settings remotely. This is especially useful if you aren't always by your computer when you are broadcasting.
Step 2: Create a new stream on the Radio Mast Streaming Network.
Log in to your Radio Mast account. Click the Radio Stations tab at the top of the Radio Mast interface. Then click the +Create button to make a new stream.

Select the 'Create a New Radio Station' option. You will need to name your new radio station. This name is for Radio Mast internal use only and will not be visible to your listeners.
Step 3: Broadcast to your stream.
Configure your encoder to connect to your stream. The steps here will vary depending on your encoder. If you followed the steps to link your Rocket Broadcaster to your Radio Mast account, no extra configuration is necessary. Read more about how to use Rocket Broadcaster.
If you are using an encoder other than Rocket Broadcaster, you will find your stream connection details in the Streams > Overview > Other Software in your Radio Mast interface. You will need to enter these details from Radio Mast into your encoder in order to broadcast.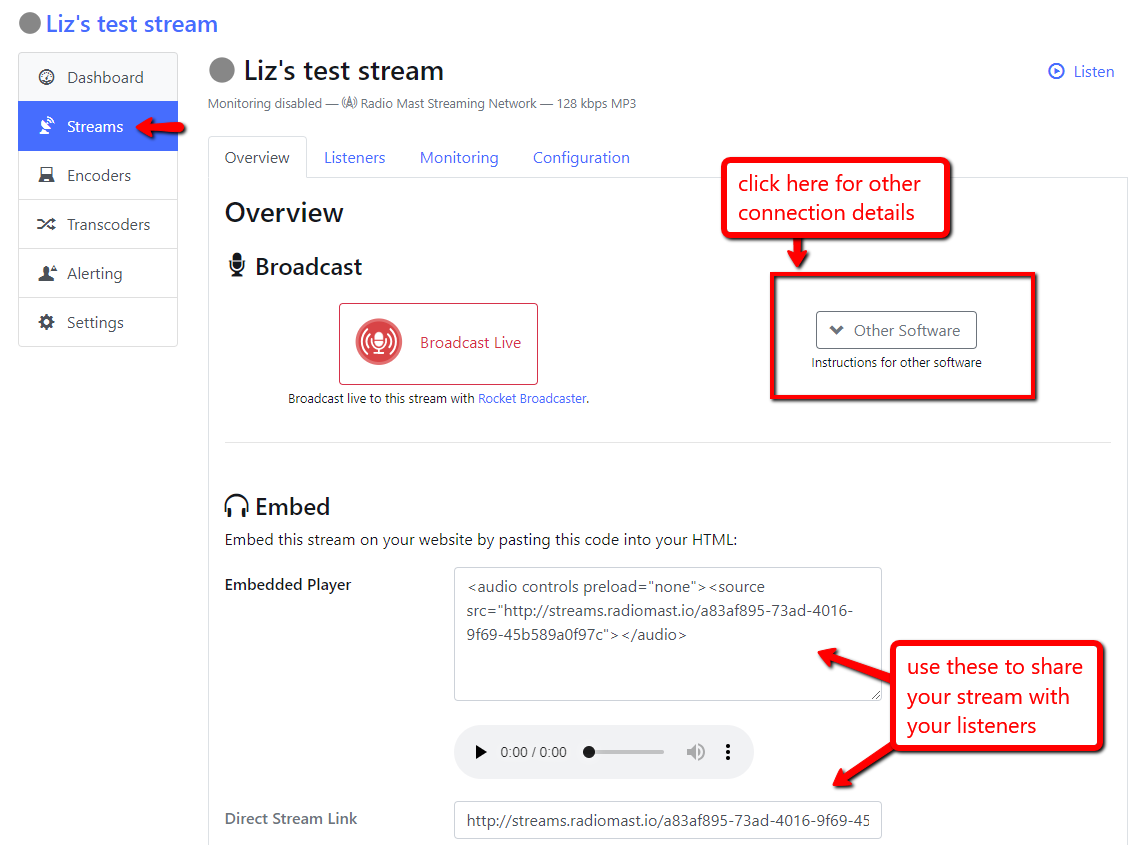 Step 4: Embed your player widget or share your direct streaming link with your audience.
Now that you are broadcasting, you need to deliver your Stream to your listeners. Radio Mast provides an embeddable radio player widget for your website. If you don't have a website for your station, you can also share the direct streaming URL with your listeners. The direct streaming URL is found in the Radio Mast interface by selecting Streams > Overview, and then scrolling down to the bottom of the page.
Step 5: Use our built-in analytics to track your listeners and see which of your shows are most popular.
Track how many listeners your stream is attracting using our built-in analytics. In the Radio Mast interface, select Streams > Listeners. You can upgrade your listener capacity at any time by selecting Streams > Configuration > Choose a Listener Capacity.